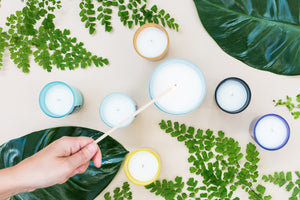 Top tips on how to look after your candles!
Top Tips
Firstly, safety is essential! So make sure to:
Keep your burning candles out of the reach of children and pets.
Never burn a candle on or near anything that can catch fire.
Remove all packaging before burning.
Place your candle on a temperature safe surface to avoid heat damage.
Always burn your candle within sight. 
Now that the super important part has been dealt with, there are a few things you can do to maintain your candle, such as;
Making sure you always keep the wick centred and trimmed to 0.6 cm.
Making sure you keep your candle away from drafts to prevent uneven burning and sooting.
Making sure you keep the wax pool free of debris, so your candle lasts longer.
Making sure you don't burn your candle for more than 4 hours at a time.
Making sure you blow your candle out after use.
Making sure to not touch the candle when the wax is still liquid. 
If you have a candle with a wooden wick, the tips above still apply:
Make sure you trim the wooden wick before each burn.

Make sure you burn the wooden wick for 3-4 hours during each burn.

Make sure you monitor the flame on your wooden wick, if it is higher than an inch trim down to 0.6 cm.
And finally for all candles, you must discontinue use once there is 0.6 cm of wax left in the jar so the jar doesn't crack! You could then even repurpose your jar!
Quick Fixes
We hope these tips allow you to have the best experience with you candle, however if you begin to experience any of the issues below, we have a few quick solutions for you.
- Make sure to trim your wicks to 0.6 cm before each use.
- Place your candle away from all drafts.
- Make sure you don't burn your candle for longer than ¾ hours.
- Loosen the wick fibres by twisting the wick with your fingers and relight.
- If this issue carries on, blow out the candle and use a paper towel to absorb some of the wax near the wicks of the candle.
- Make sure to burn your candle for 3-4 hours each time you light the candle.
- Move your candle to another location to avoid drafts.